Certified Corda Developer
Kerala Blockchain Academy (KBA), a general partner of R3 consortium, offers training and certification program on Corda platform in association with R3. The Certified Corda Developer program provides developers with the knowledge to build and deploy Cordapp on the Corda platform. Corda is a blockchain-inspired platform, that works as a distributed ledger which is mainly designed for business, technical professionals, entrepreneurs. Corda enables companies to transact directly with each other, with the help of smart contracts and distributed ledger technology. Corda enables business systems to lessen transaction and record-keeping costs. This training program primarily targets developers with knowledge on basic web development tools and object-oriented programming techniques to build an application on top of Corda Distributed Ledger Technology. Our specially designed curriculum introduce everything needed to understand the DLT technology, write and build CorDapp applications that can interact with Corda Network. Students will create a mini project that demonstrates key Corda features.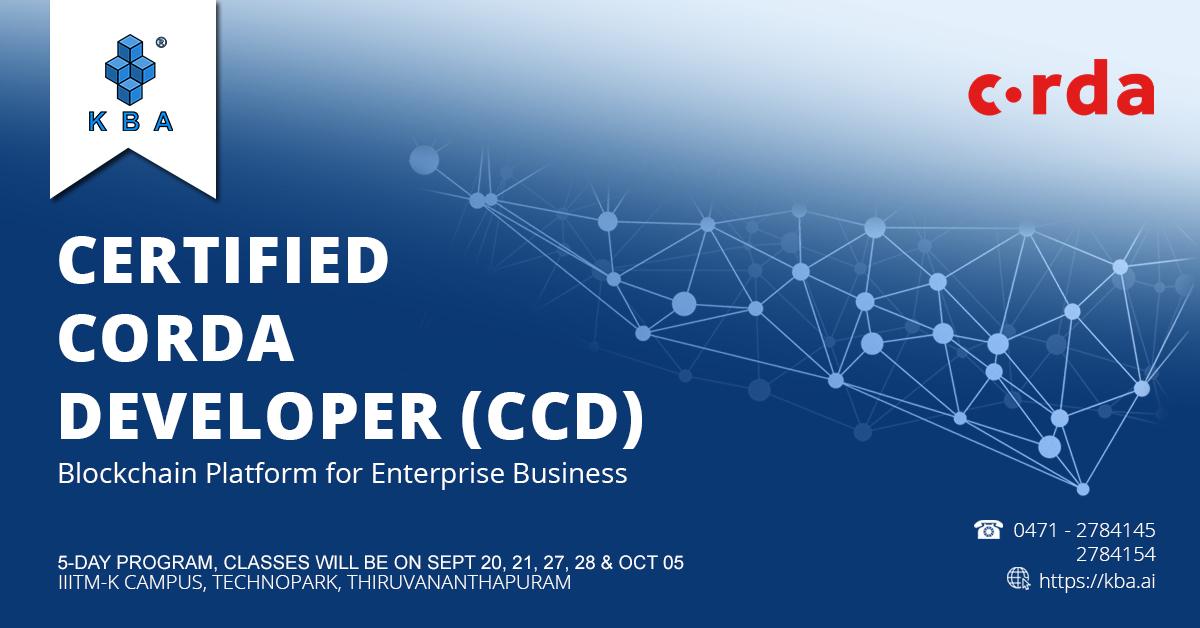 DURATION, MODE OF DELIVERY
The Certified Corda Developer (CCD) program is 30 hours, instructor-led classroom-based training and certification which can be completed in one week. For full-time mode, the classes will be from Monday to Friday, from 10:00 AM to 05:00 PM (6 Hours per day). Weekend mode batches are primarily for working professionals, on Fridays and Saturdays, from 10:00 AM to 05:00 PM (6 Hours per Fridays and Saturdays). The prerequisite for joining the CCD program is the basic knowledge of Web Application Development (Kotlin/ Java/ CPP, HTML, CSS, JavaScript, jQuery) and Blockchain technology.
Each participant of this course is expected to identify one business use-case/project idea, discuss and develop the application using Corda. There will be an individual project evaluation and presentation which is mandatory for the successful completion of the program. There will be 40% weightage for the Quizzes, and 60% weightage for the code evaluation, project presentation, and viva.
Certification is based on Continuous Evaluation through online quizzes and final Mini project presentations. Kerala Blockchain Academy will provide Certified Corda Developer Certificate to all the participants who attend all five days of the program and completes the continuous evaluation components. The CCD program modules are highly related and aligned to the requirements for Online Corda Developer Certification Exam conducted by R3 Consortium. Candidates can take the exam online (at an additional cost) if they wish to get official Corda certification.
* 20% discount for CED/ CHD graduates, 10% discount for CBA graduates.